Chinese New Year, or the Spring Festival,
the longest and most important festival in the Chinese calendar
begins this year on February 10, 2013 (or 4711 !)and lasts for 15 days until February 24th, the day of the Lantern Festival.
An exciting parade with marching bands, Lion and Dragon dancers, floats, music and fireworks is a major part of the holiday for many Chinese communities.
Chicago's Chinatown parade
will be held on
Saturday, February 17 at 1:00 pm
.
Chinese New Year's customs
could be compared to rolling Thanksgiving, Christmas and New Year's into one long celebration! It is a time for cleaning and decorating the home, for hosting family reunions with special meals, for giving thanks for the past year's safety and good fortune and then sending special good luck wishes to all for the coming year. On
Chinese New Year's Eve
, families will feast on pigs, ducks, chicken and sweets, grownups will give the children
Li Shi
, good luck money in little red envelopes, children will wish their parents
Shou Shi
, " Live long," and then everyone will welcome the New Year with firecrackers!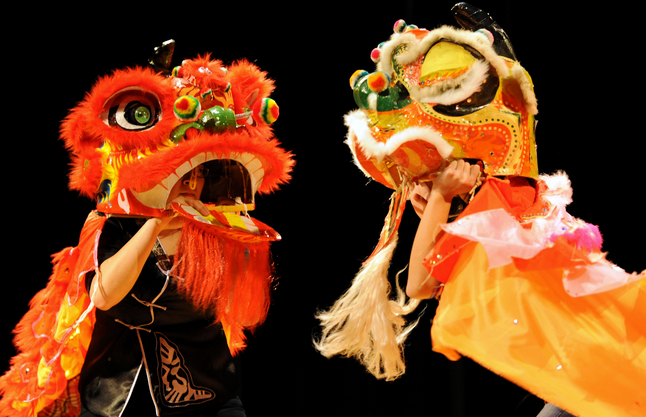 The Chinese calendar
is represented by twelve animals of the zodiac chosen by Buddha, one for each year of 12 years, whose animal qualities or powers should be seen in the personalities of people born in matching years.
2012 was the Year of the Dragon; 2013 is the Year of the Water Snake.
Chinese legend says the snake is a little dragon who fell from the skies, and cannot fly. If you were born in the Year of the Snake, you might be calm, shy, smart, generous and wise; or you could also be cunning, ambitious, likely to argue, not one to be fooled with.
If your family wishes to join in the spirit of the 2013 Chinese New Year,
read a few holiday books
together or visit the links above to learn more about the parade and the special customs and history of this colorful festival.